Lluís Domènech i Montaner:
Master of masters
One of the most important architects of Catalan Modernism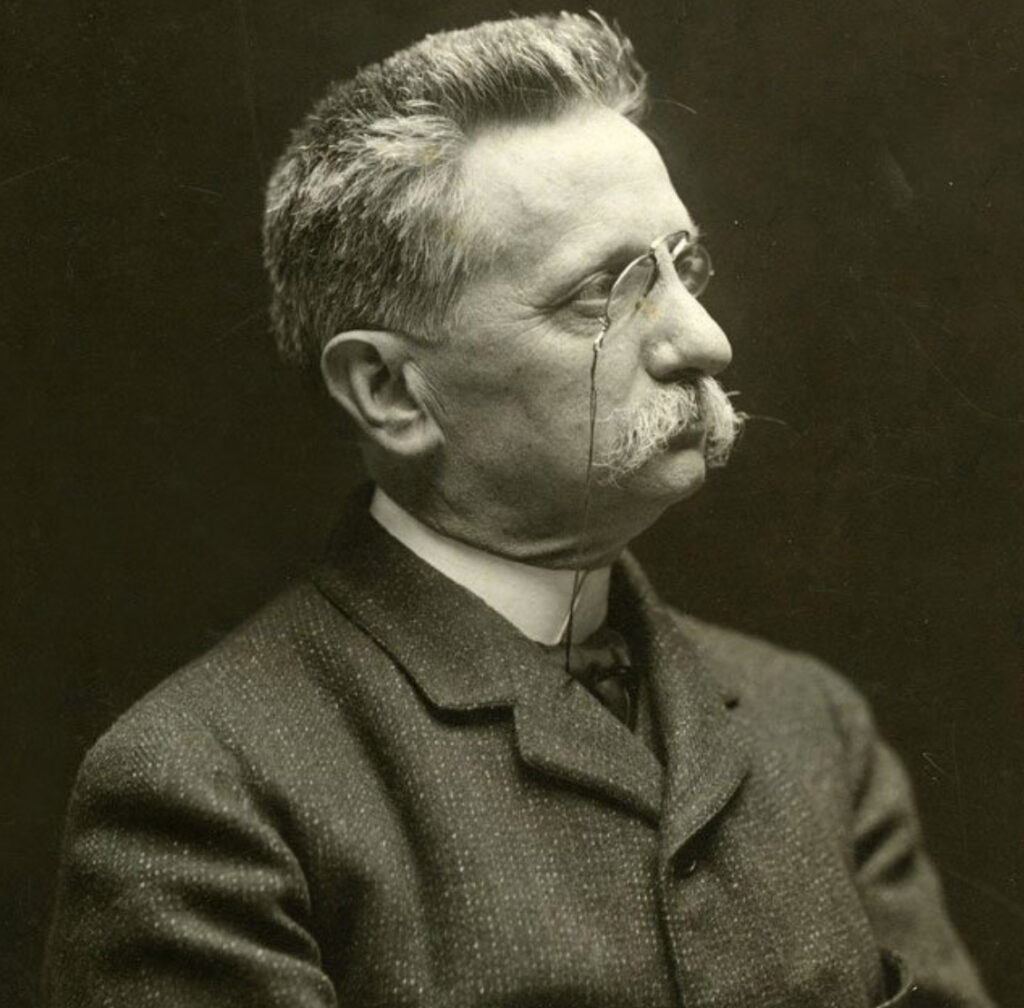 Lluís Domènech i Montaner (Barcelona, 1849-1923) was one of the most important architects of Catalan Modernism. With a degree in architecture in 1873, he is the author of such imposing buildings as the Palau de la Música and the Hospital Sant Pau in Barcelona. As a young man he travelled around Europe, from where he imported technical knowledge and new materials that gave him a new vision of architecture.
This new technique coincided with the emergence of the new Catalan bourgeoisie, which immediately admired the work of the architect. It is not surprising, then, that he is one of the most prolific architects of the time and that some of his works have been recognised as World Heritage by UNESCO. As a teacher, he trained such outstanding disciples of Catalan modernism as Antoni Gaudí, Josep Puig i Cadafalch and Josep Maria Jujol.
Montaner also excelled as a typeface designer, illustrator and bookbinder. Particularly important was his political side, committed to political Catalanism, he was the driving force behind the Regionalist League and a member of the Spanish courts. He combined his profession with studies in heraldry and Romanesque art.
Aquesta nova tècnica encaixà amb el sorgiment de la nova burgesia catalana que, de seguida, quedà admirada pel treball de l'arquitecte. No és d'estranyar, doncs, que sigui un dels arquitectes més prolífers de l'època i que diverses obres seves hagin estat reconegudes com a Patrimoni de la Humanitat per la UNESCO. Com a docent, va formar deixebles tan destacats del modernisme català com Antoni Gaudí, Josep Puig i Cadafalch o Josep Maria Jujol.
Domènech i Montaner també va brillar com a dissenyador de tipografies, il·lustrador i enquadernador de llibres. Especialment important va ser el seu vessant polític, compromès amb el catalanisme polític va ser l'impulsor de la Lliga Regionalista i diputat a les Corts espanyoles. Va combinar la seva professió amb els estudis d'heràldica i art romànic.
Casa Navàs marked a clear evolution of Montaner's architectural language. From the very beginning he gathered a team of collaborators of great level and let them work with complete freedom, a gesture very unusual at the time. Particularly close was his relationship with the decorator Gaspar Homar, they complemented each other so well that in the interior design works of the house it is often difficult to see where the work of one begins and where that of the other ends. However, the most architectural part almost always corresponds to Montaner, and the lights, carpentry, furniture and embroidery to Gaspar Homar.
This is not the only outstanding work in the city of Reus by the famous architect. Montaner also designed the Pere Mata Psychiatric Institute, Casa Rull and Casa Gasull, which today can also be visited on the Modernism Route promoted by the Agencia Reus Promoció.
Aquesta no és l'única obra destacada a la ciutat de Reus del cèlebre arquitecte. Domènech i Montaner també va dissenyar l'Institut Psiquiàtric Pere Mata, la Casa Rull i la Casa Gasull, que avui dia també es poden visitar dins la Ruta del Modernisme que impulsa l'Agència Reus Promoció.