Discover Casa Navàs led by the shop manager and the house's works foreman. They will take you into some spots of the house that are not usually visited. It's a unique experience, for the whole family, that will surely surprise you!
Do you want to see Casa Navàs from another perspective, and discover those spots you cannot see during the guided visits? If the answer is yes, this is your visit! Dramatized visits are thought for the whole family to enjoy this Art Nouveau jewel in a funny and amusing way.
To do that, now we are in the early 40s. When the Spanish Civil War is over, works to restore the damage caused by the bombs in 1938 begins at Casa Navàs. Pere Ferré is the restoration works foreman. He and Marcel Pons, the shop manager, will lead the craftsmen from the different workshops through the house, so they can learn what they have to do. But Pere and Marcel hide a secret… and during the visit they will have to make their best to avoid it coming to light.
With the dramatized tour, the shop manager and the works' foreman will take you into Casa Navàs. These characters will lead you to some spots of the house that are not usually visited. A unique experience that will surely not leave you indifferent!
Visit details:
Dramatized guided visit

Small groups

Visits in Catalan, Spanish, English and French

Family audiences

We recommend buying the ticket in advance

A Lucky&Luke production
Producciones Lucky&Luke was found in 2003 by Benjamín Miguel and Manuel Barroso as a comedy cabaret company. During these years, they have created more than 20 shows, including cabaret, plays for children, musicals, and literary classics adaptations, which made them tour for years all around Spain. They have taken part in many events in the city of Reus, as, for instance, the springtime, the vouchers, and Christmas campaigns for the city council. In June 2020 they were the artistic directors of the premiere of the restoration of the frontispiece of Casa Navàs.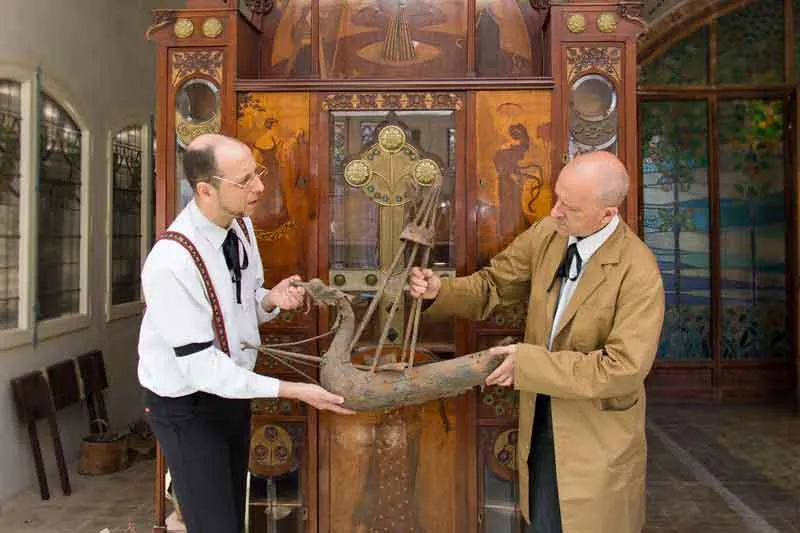 Continue the visit
Do not miss the most charming spaces