Live an unforgettable Art Nouveau evening with live music and dinner at the shop of the house.
To submerge into Casa Navàs is like going back in time to know the day-to-day life of the Catalan bourgeoisie from the beginning of the 20th century. Now, Casa Navàs wants to take a step forward giving its visitors the opportunity to experience Reus as it was in the last century with «Art Nouveau Nights». The initiative allows, besides taking a guided visit, to discover the type of music that was listened to at the time, whilst enjoying a standing dinner in the emblematic Navàs Blasco shop.
The experience will begin with the guided visit throughout the entire Casa Navàs, finishing at the shop, where the concert and dinner will take place. The supper is in charge of Cal Borrull and will be accompanied by Secrets de Casa Navàs white and red wine from Clos Galena. This wine cellar, of international prestige, continues to support Casa Navàs after the success attained during the «Premium Visits» -guided visit and wine and vermouth tasting in the terrace- from last August and September. To achieve a more authentic evening, it is recommended to all visitors to dress accordingly to the period.
Visit details:
Guided visit

Dinner: Cal Borrull (food) + Secrets de Casa Navàs de Clos Galena (beverage)

Dress code: acordingly to the period / elegant

Live music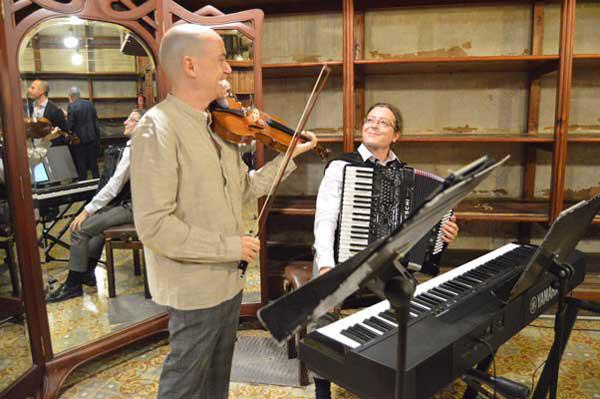 Garbuix Duet
Between 1900 and 1930, it was traditional to go to the theatre to see performances interpretedbfor violin and piano from the best-known Catalan composers of the time. Once the concerts had finished, people went to the most popular bars, where the ambience was livelier and they played more upbeat and modern music.

These two types of music will be offered in the concert presented by Garbuix Duet (Albert Galcerà and Albert Carbonell). The first part, with pieces from Frederic Mompou, Manuel de Blacafort, Enric Morera, Enric Granados, Eduard Toldrà… composers and creators from the Catalan musical Art Nouveau; and the second part, with French tunes for violin and accordion, Argentinian tangos, boleros and swings.
Continue the visit
Do not miss the most charming spaces!