Special promotion discount checks to visit Casa Navàs
Campaign start: January 31
Discount checks will be distributed in establishments associated with the Unió de Botiguers and El Tomb de Reus
With the collaboration of:
– Unió de Botiguers
– El Tomb de Reus
Casa Navàs will kick off the Domènech i Montaner Year with a collaboration campaign with the Unió de Botiguers and El Tomb de Reus that will allow visitors to visit the house for only 7 euros. In total, 15,000 discount checks will be provided to each entity so that they can distribute them among their associates. Establishments will be able to give these discount checks to customers who make a minimum purchase of 20 euros. This campaign aims to seek alliances with the city's businesses and, at the same time, offer the people of the area the possibility of discovering this unique modernist jewel in the world at a very low price.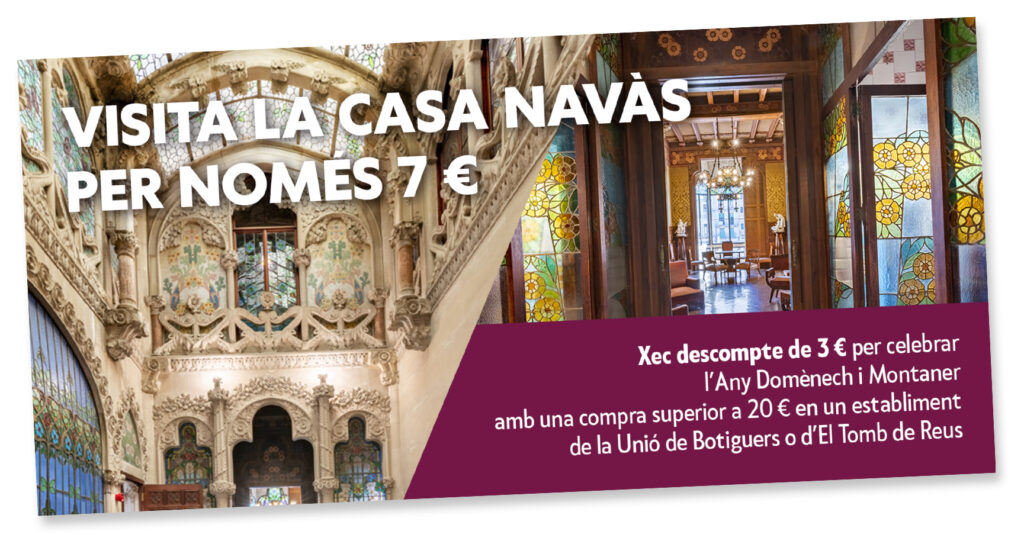 – The discount is 3 euros on the price of the general admission of the guided tour (10 euros).
– It is a discount that cannot be combined with other offers.
– This discount voucher can be used from January 30 to June 15. Weekends and holidays are exempt, as well as the entire Easter Week.
– This discount check must be exchanged at the door of Casa Navàs
– This discount can be used as long as there are seats available.